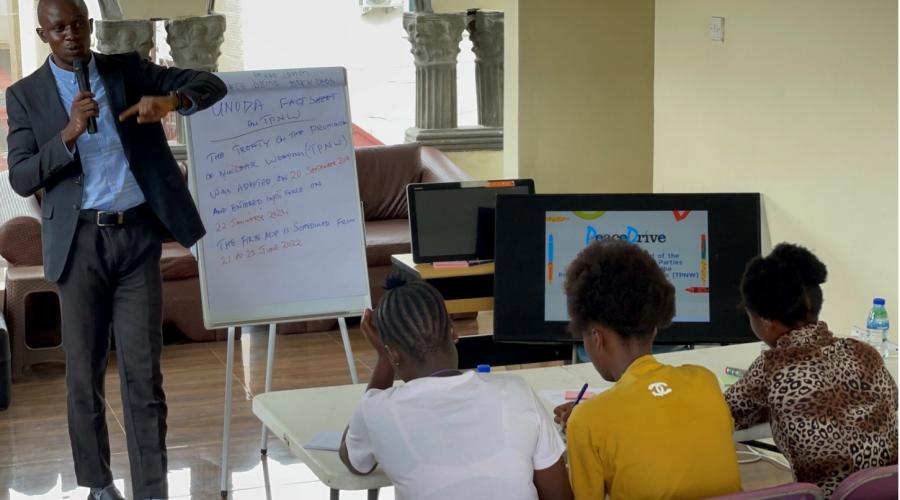 I'm Musa Carew, a #Leader4Tomorrow with the #Youth4Disarmament Initiative, and both founder and Team Lead of Peace Drive, an organization that provides tools, and development tips to youth, and community based organizations on how to localize the Sustainable Development Goals in our various communities; especially in (post-) conflict zones where people struggle to maintain their fundamental right of human dignity. Localizing it within Sierra Leone's context, Peace Drive has directly impacted 1000 beneficiaries through humanitarian aid and capacity building opportunities.
Ahead of the first Meeting of States Parties (MSP) to the Treaty on the Prohibition of Nuclear Weapons (TPNW), Peace Drive organized a workshop in Freetown, Sierra Leone, on 15 June 2022, for 60 young persons (40 female & 20 male). The treaty was adopted on 7 July 2017, obtained it's 50th instrument of ratification on 24 October 2020, and entered into force on 22 January 2021. It was built on the challenges and progress of other treaties and serves as the only instrument that bans the production, stockpiling, use, and hosting of nuclear weapons; amongst other prohibitions.  
The First Meeting of States Parties to the TPNW took place from the 21 - 23 June 2022 in Vienna, Austria, convening the parties to the treaty to discuss the way forward for implementation of the articles enshrined in the treaty; while other bilateral and multilateral organizations, including civil society and youth groups, would be observers to the meeting. Considering that this is an historic event and the urgency for the elimination of nuclear weapons, Peace Drive engaged young leaders with an introductory session on the TPNW, in order to spark their interest in disarmament conversations, and keep them in the loop of the strides and progress being made at a global level.
There were presentations on the Universal Declaration of Human Rights; focusing on the 7 basic human rights, an Introductory Session on the TPNW; including the role of the International Campaign to Abolish Nuclear Weapons' (ICAN) as the coordinating civil society for the MSP, and a session on Avenues for Youth Participation in Disarmament Processes, including the #Youth4Disarmament Initiative; with technical support from Ms. Marykate Monaghan (UN Youth Consultant with the #Youth4Disarmament Initiative), and a video message by Ms. Alicia Sanders-Zakre (Policy & Research Coordinator at ICAN).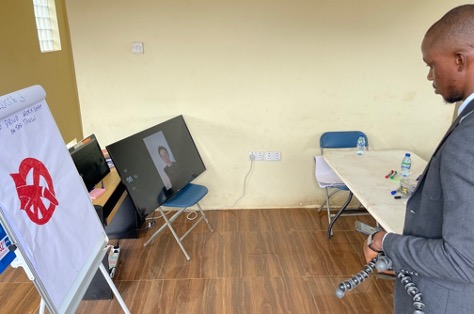 We were motivated to focus on these topics as many young people in our community do not know of their human rights. A basic explanation on the Universal Declaration of Human Rights informed participants of their inherent rights. A video message from ICAN laid the foundation for the introductory session on the TPNW and the global effort to eliminate nuclear weapons. Finally, the session on "Avenues for Youth Participation in Disarmament Processes" highlighted the role of the #Youth4Disarmament Initiative in coordinating various youth activities for young people to contribute towards advancing our disarmament objectives. The session also encouraged participants to take part in activities conducted by youth-led organizations, in order to build on their curiosity and the momentum for participating in disarmament conversations, and disseminate the knowledge gained from the workshop to their peers.
Through our engagements, I've learned that there should be safe spaces for youth to be civically engaged in critical discussions and disarmament education, as to break stereotypes and create room for a more nuanced understanding of the subject matter. I also learned that it's necessary to foster collaborations and partnerships with various likeminded institutions in order to expand networks and provide support in ensuring these conversations are actualized.
I therefore intend to continue raising awareness and engaging young people on issues related to disarmament, non-proliferation, and arms control. 
Musa Carew is one of the #Leaders4Tomorrow, participating in a five-workshop series to explore the linkages between disarmament, non-proliferation, and arms control (D.N.A.) and relevant topics connected to international peace and security.