Christelle Barakat and Dilan Ezgi Koç
Youth Champions for Disarmament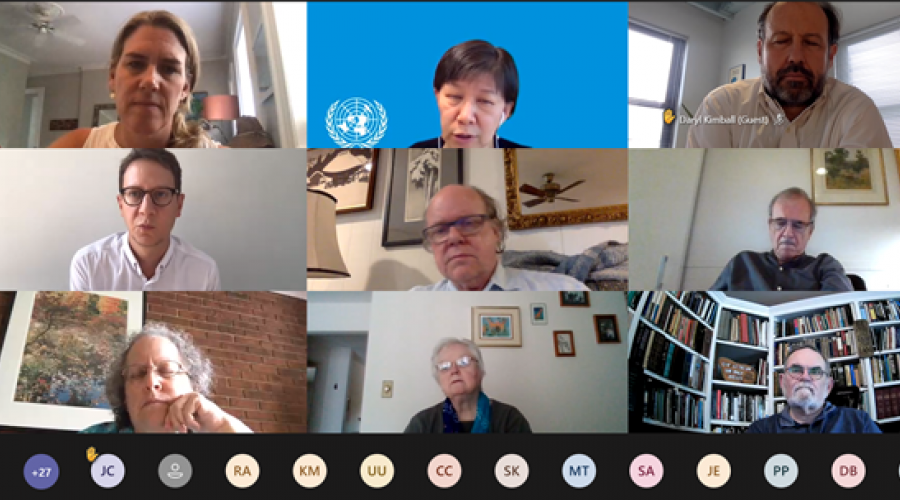 On 14 September 2020, the UN Youth Champions for Disarmament attended a meeting between the High Representative for Disarmament Affairs and civil society advocates working on many of the same issues.
The UN High Representative, Ms. Izumi Nakamitsu, opened the virtual discussion by briefing participants on important disarmament-related developments in 2020. With the world now marking 75 years since both the UN's founding and the atomic bombings of Hiroshima and Nagasaki, this year has certainly given us all a lot to think about.
The pandemic's devastation has made it glaringly clear how weapons fail to keep us safe, and the discussion returned to this point repeatedly. Now that an invisible virus has revealed how fragile the world really is, we should reflect on whether countries are actually creating "security" when they spend huge amounts of money on weapons and militaries. To rethink how we keep our societies safe, we can start by putting human security closer to the centre.
The health impacts of the virus have been alarming, but the meeting shed light on another risk: its spread could make the world more dangerous by worsening tensions between big military powers. Looking for a silver lining, some of the meeting's participants considered how the pandemic could help advance human-centred security and development by placing a new spotlight on long-standing problems.
The attendees also raised some fascinating questions. Their exchange with the High Representative touched on how to improve human security, how to help youth, students and underrepresented populations engage on disarmament issues, and how UNODA could apply COVID-era working methods and processes to further support civil society engagement and champion transparency.
The participants also celebrated and recognized the creativity and innovation of young people in the fields of disarmament and peacebuilding. We, the Youth Champions, ended the meeting by expressing our gratitude and joy to take part.
The High Representative's meeting with non-governmental groups highlighted how UNODA supports discussions about security and weapon issues by bringing together actors and partners with different perspectives. The path to recovery from COVID-19 will be fraught with challenges, but it has opened a window of opportunity for disarmament issues and the need for them to be taken seriously.